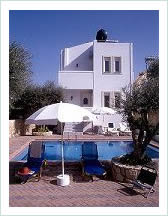 When you first arrive at the New Kydonia, it's hard to believe that there are 23 apartments on the complex. Low modern-style buildings are discreetly set amongst lush gardens and green lawns. Each apartment has its own balcony, each with its own unique view – ocean/town, mountains or gardens.
The New Kydonia apartments are all comfortably furnished, spacious, modern and superbly appointed; all are equipped to a high standard which includes air conditioning, safety deposit box, hair dryer, iron, satellite TV and DVD player. A fully equipped kitchen
includes oven, microwave oven, fridge-freezer, toaster, etc. One bedroomed apartments have a lounge/dining area and kitchen, bathroom with bath/shower and a private balcony with views of either the mountains, the gardens or the ocean and Chania. The separate bedroom has twin single beds and, with two lounge beds, up to 4 adults can be comfortably accommodated. Two bedroomed apartments have one double bedroom and one bedroom with twin single beds, two bathrooms, a lounge/dining area and kitchen, and a private balcony with views of either the mountains, the gardens or the ocean and Chania.
Attractive studio accommodation for two people comprises one large sleeping and breakfast/kitchen area, bathroom and private balcony. Studios are air conditioned and are well equipped with TV, DVD, etc.
The magnificent swimming pool has an enclosed children's pool and the large sun terrace with sunbeds and umbrellas has spectacular views over Chania and Chania Bay. Pool towels are provided and there is a shady, grassed play area for kids where they can enjoy games such as ping pong and table football. A wide selection of books is available in our library as well as a range of DVDs, maps, local information books and guide books.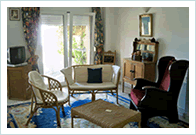 Our lovely terrace restaurant/bar is open throught the day and evening, we take great pride in the standard of our cooking and use high quality, fresh, local produce, homegrown extra virgin olive oil and a variety of herbs picked freshly from our own garden. We always offer a range of traditional Greek and local Cretan dishes as well as international cuisine. Vegetarian dishes and kids menus are always available, guests with special dietary requirements can easily be catered for. Special themed evenings such as the Cretan BBQ Night are always popular social and culinary experiences.
The local, safe, sandy beaches are within 1.5kms and the historical Venetian port of Chania is just 5kms away. We are in easy reach of the Samaria Gorge National Park, the gorge is the longest in Europe and its beautiful surrondings are perfect for walkers, birdwatchers and anyone with an interest in the local Cretan flora and fauna. With a long and varied past spanning at least 6000 years, Western Crete is a paradise for historians and archaeologists. Scuba diving, boat trips,biking, beach visits, tennis and trips into the mountains can all be arranged through New Kydonia.